Preserving Ingredients
Keeping ingredients such a pepper, chillies and root ginger in good condition can be difficult as they are often sold in sealed packets with more contents than can be used for one meal and much can often be wasted. Use these techniques and always have good quality ingredients on hand (this also saves some money, and that can't be bad).
Keeping Coriander
Coriander is one of the most difficult herbs to keep fresh for any length of time, but this is a tip that I discovered on the internet that really works. You will need some kitchen paper and a container with a tight fitting lid. Do not wash the coriander as the extra moisture will shorten the preservation duration (
if pre-washing is preferred see alternative comment below
).
Coriander as purchased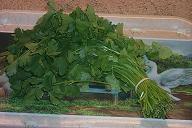 Depending on the size of your container, chop off some of the stalks so that the coriander will fit into the container.
Prepare the coriander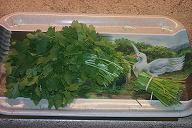 Wrap the coriander in kitchen paper (this will assist in absorbing moisture) and place in the container.
Wrap the coriander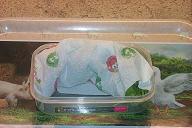 Tightly close the lid and refrigerate.
Store the coriander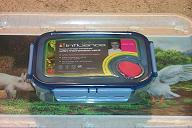 The coriander can keep fresh for a couple of weeks or more. It is helpful to replace the kitchen paper from time to time as it becomes damp from absorbing moisture. This really does work - try it and see. You can also use the technique on other similar herbs.
Alternatively...
The herbs can be washed, and thoroughly dried before chopping. The chopped herbs can then be wrapped in kitchen paper and stored as previously discussed. This might be an easier option, but they
must
be thoroughly dried.
Chillies
Before handling the chillies thoroughly rub your hands with a little vegetable oil.
This will help to prevent the burning sensation of the chilli juices.
Start with any colour of chilli and de-seed.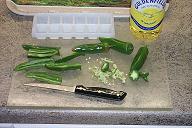 Chop the chilli finely.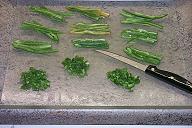 Put a teaspoon of chopped chilli into each section of an ice cube tray.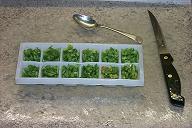 Add cold water to each section and put the tray in the freezer.
When the cubes have frozen, transfer them to a freezer bag and replace in the freezer until required.
This keeps them fresh and prevents them from sticking together.
Peppers
Start with any colour of pepper.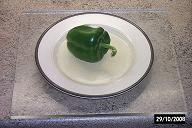 De-seed the pepper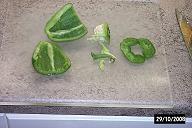 Slice the pepper as shown below and separate the strips on a plate.
Put the plate into the freezer and when the pepper strips are frozen they can be bagged and kept in the freezer until required.
This keeps them fresh and prevents them from sticking together.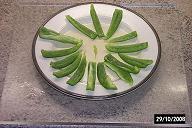 Root Ginger
The ginger can be cut into about 1 inch lengths and then frozen. It can then be grated from frozen. This is a good preservation technique unless juliennes or chopped ginger is specifically required. It is very suitable when making ginger or ginger and garlic paste.
Printing Issues
To enable printing a javascript must be executed.
If the system asks permission it must be given for printing to proceed.
A file dialog will then appear in the normal way.
Back to Top